Change needs freedom. Games offer the freedom to experiment, to make mistakes, to learn from them and to grow from them. Learning is combined with training by making personal decisions that shape the result and course of your simulation. An exciting challenge, visible progress and measurable success to develop real skills. Do you dare?
The Business Simulation for the Corrugated Board Industry
Manage a corrugated board manufacturing company and learn about maintenance activities, production capacity utilization, product quality and the structure of operational indicators.
Understand the production process and the effects of innovation
Learn which factors influence the availability and performance of a production line
Understand the connections and effects of investments on productivity and profitability
Platform: Browser, Mobile
Genre: Business Simulation
Languages: DE, EN


Duration: 4-6 hours
Level: intermediate
Modules: 3 difficulty levels
License: 60 days
Production Process
Overall Equipment Effectiveness
Investment Decisions
Description
Production Performance is a business simulation with a focus on the production process of corrugated board.
In this uncertain business environment it is important on the one hand to ensure high availability and performance of the equipment to produce high-quality corrugated board and on the other hand to reduce operating costs at the same time. The learning objective is to understand the impact of investments in machinery, maintenance and people on productivity and profitability.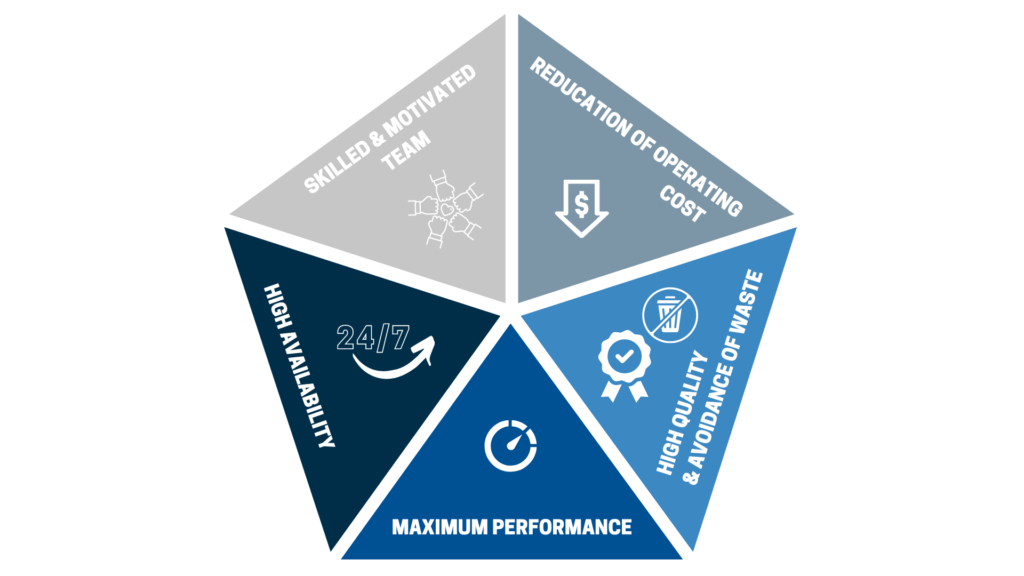 During the simulation, you will make the management decisions of the virtual company COPS – Corrugated Packaging & Services. Your decisions influence
what kind of products and what volumes are produced
what condition and innovation level your equipment is in, and
how skilled and motivated your teams are.
In each period you will be able to review your decisions and their impact on your business. In addition, you have to react to the influence of external factors. Various indicators and reports assist your decision making.
The knowledge base contains more useful text and video material around economics, the production industry and corrugated board production. The purpose of this simulation is to provide practice-oriented knowledge of business and production management.
Only employees of BHS Corrugated Maschinen- und Anlagenbau GmbH or affiliatet companies are granted access. In doubt contact us.
After registration, the HR team will review your request. After approval you will receive a getting started guide and your login credentials (from support@edu-simulation.com).
Questions about your license?
✉️ Please contact your department lead or HR.
Questions about the simulation?
✉️ Please use the SKILLFIRE contact form.
Manage your orders and production plan according to your strategy.
Reduce losses and discover hidden potential in the production process.
Invest in maintenance and modernization of your equipment.
Build a skilled and motivated team for a successful future.