Crisis & Change Management
Turn a crisis into a success factor with quick and agile reaction and adaption to fast changing situations.
In the business simulation about the management of crises and change, the participants navigate as managing directors of a production company through different crises. In addition to business management skills, they learn how to deal with liquidity bottlenecks, regulatory changes and market fluctuations.
Identify crises
Develop and implement solution approaches
Shaping change
Platform: Browser, Mobile
Genre: Business Simulation
Languages: EN
Change Agents
Executives & Managers
Managing Directors
Duration: 4-6 hours
Level: intermediate
Modules: 3 scenarios
License: 60 days
Description
In a complex business environment, the ability to change, adapt and react quickly and correctly to crises becomes a success factor. The current Corona crisis is the best example of a profound, unpredictable change for many companies.
In the business simulation, participants learn to react to various short-term / imminent, internal / external crises and changes in the company. The learners deal with the questions:
What can trigger a crisis or initiate change?
What events trigger liquidity bottlenecks and what solutions are there?
What are the risks of these crises?
The players are managing directors of Forknello, a manufacturer of designer cutlery for upscale restaurants and hotels, which has been on the market for some time. In addition to general economic decisions on purchasing, production, sales and business operations, suddenly occurring crises have to be mastered in 3 scenarios and solutions have to be found in order to stabilize the company.
Module 1
The company gets into a liquidity bottleneck due to stagnating sales with rising material costs.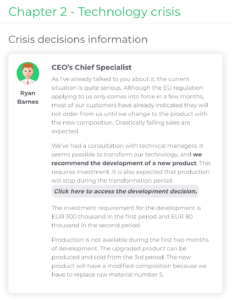 Module 2
Regulatory changes to the coating trigger a technological crisis, a reorganization is imminent.
Module 3
A sales crisis in international business due to inefficient operations is looming.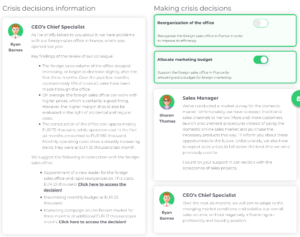 The company's situation and the types of crises are explained in accompanying videos and articles. Before and during the simulation, a knowledge base conveys the necessary basic knowledge about business issues, as well as information about the management of crises and change. A final quiz helps to test the knowledge acquired and flows into the overall result.
A Simulation by our partner 

Branding, Customizing & Individual Trainings
We customize the game-based trainings according to your specific requirements in your unique branding. Together we turn your existing training content into exciting individual serious games.